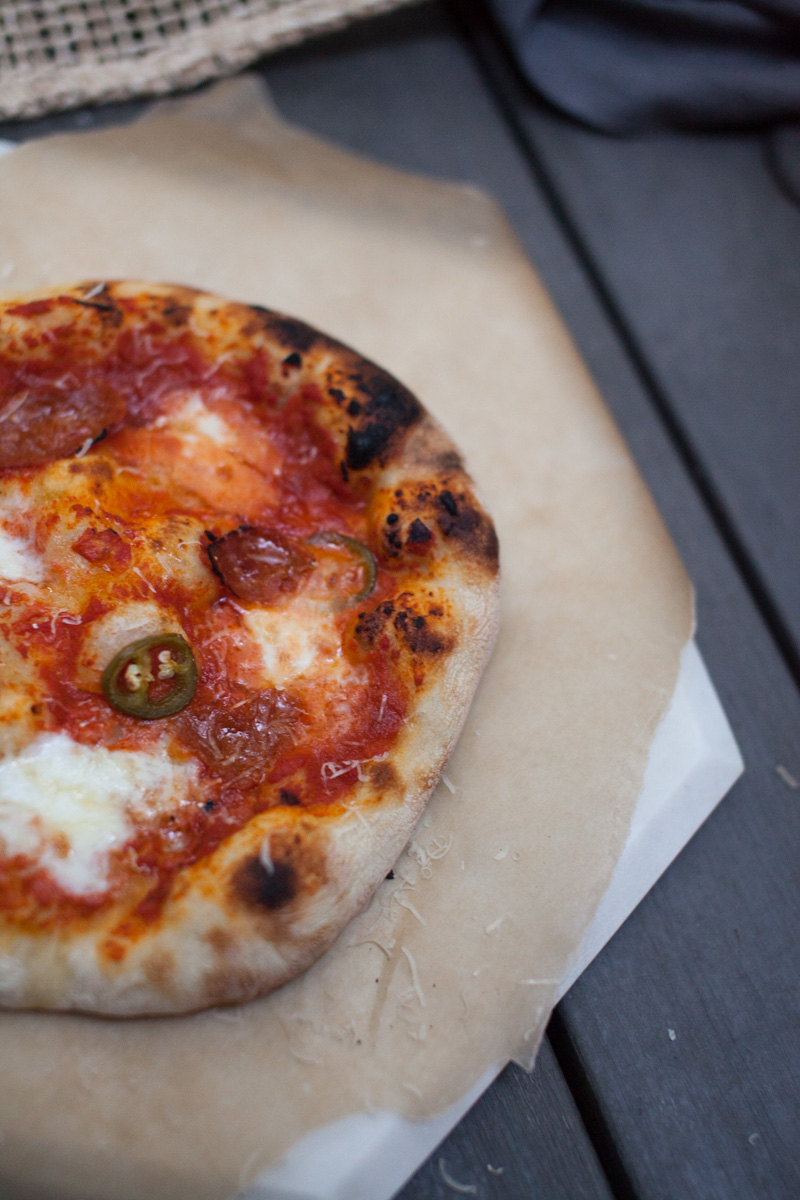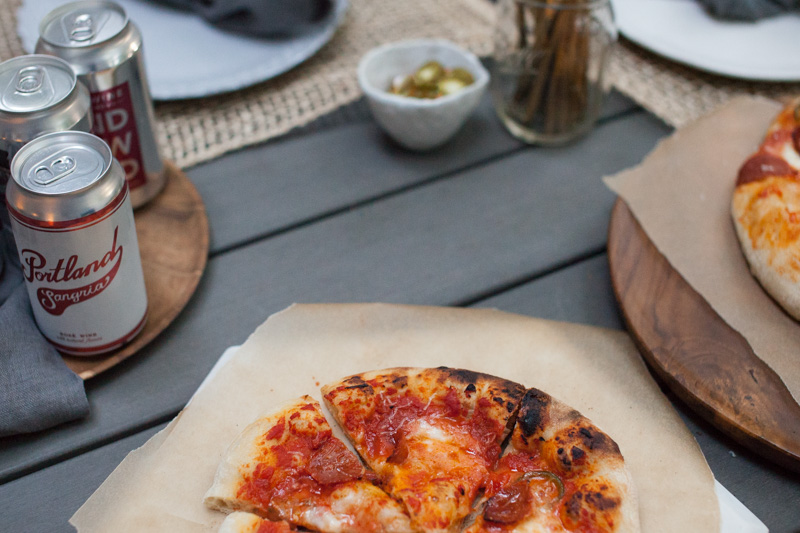 Nobody does pizza like Brooklyn. This is my opinion. HOWEVER, I'm certain my opinion is ALSO the truth. Whether you agree or disagree, you need to try some spicy, hot honey on your pizza asap. I can understand if honey as a pizza topping sounds a little strange at first, but trust me on this one. Think about it this way - It makes for a perfect combination spicy, sweet, cheesy, & carbs. We used
Mike's Hot Honey
, but you can easily infuse your regular honey with some cayenne or crushed red pepper flakes to taste. I think a bottle of Mike's would be a great holiday gift for your food or Brooklyn loving friends! If you want to tone down the heat from the pickled peppers, plain honey is delicious and perfect on spicy pizza too. Please put honey on your pizza very soon. That is all I ask! Sadly we know we are moving from Brooklyn soon, so we had to try to recreate some of our favorite combinations at home for when the Brooklyn pizza withdrawal symptoms start. This pizza isn't the same as a night at Roberta's, but it's the next best thing. It was inspired by the Bee Sting at
Roberta's
, the Colony at Emily's, and the Hellboy at Paulie Gee's. If you're in Brooklyn soon, promise me you will go eat both the Bee Sting and the Colony please! All three of this Brooklyn pizza institutions have a hot honey pizza on their menu for a reason. Reason being, it's the best thing to happen to pizza since Brooklyn. We're pretty committed to the pizza life, so we actually baked this one in an
at-home, stovetop pizza oven
! I hope we can make a video about this indoor pizza oven soon because it's been a game-changer to our home cooked pizza! Our kitchen is on the garden level of our brownstone so we have low ceilings and we set off the fire alarm every. single. time. that we use it. If you have a normal kitchen this probably wouldn't be a problem, and so far that is the only downfall to the oven. The Pizza Pronto lets us cook at almost 600 degrees F and burns the edges just the way we like it. We ruined the first two pies we put in, so I would do a trial run or two with cheap store-bought dough and little to no toppings while you get the hang of it. The oven doesn't take up much space either, which is another major perk! If you love pizza as much as we do, I definitely recommend putting this under your Christmas tree this year. It's an investment at $150, but we basically think we are pro pizza chefs now. Please note, we are not pro pizza cooks yet but this recipe is pretty dang good.
Hot Honey Pizza with Pepperoni & Quick Pickled Peppers
Honey is our favorite easy upgrade to your favorite pizza dough recipe or store-bought pizza dough. This is our go-to combination right now but adding honey to your pizza works with endless combinations too! If you are using the pizza pronto stovetop oven, cut off some of your dough to make a 10-inch pizza for easier use.
Ingredients
Pizza dough
⅓ cup of pizza sauce (we blend the san marzano tomatoes whole tomatoes with basil along with a pinch of sugar, heavy pinches of salt to taste, and good olive oil to taste)
2-3 oz fresh mozzarella, torn into pieces and drained
Parmesan, freshly grated to taste
Pepperoni, to taste
4 jalapenos, sliced
½ cup white wine vinegar
1 Tbs sugar
⅛ tsp kosher salt
Hot honey
Instructions
Preheat oven to 500 degrees F or highest possible temperature. If using a stovetop pizza pronto, begin to preheat pizza oven on stove.
Bring vinegar, sugar, and kosher salt to simmer in a saucepan while mixing until sugar is combined.
Add jalapenos, cover the pan and turn off the heat allowing them to sit for at least 30 minutes.
Drain and store extra jalepenos in an airtight jar.
Prep and stretch pizza dough per recipe or packaging.
Using a ladle put approximately ⅓ cup of pizza (more or less to taste, not too heavy though) on the pizza dough smoothing and spreading the sauce evenly up to the crust with the bottom of the ladle.
Top with torn pieces of fresh mozzarella and grated parmesan. We keep the cheese light at our house, but add cheese to your taste preferences.
Scatter pepperoni and pickled jalepenos.
Cook pizza according to dough recipe or packaging instructions. If using a pizza pronto, cook for a few minutes watching for edges to begin to char and burn.
Serve immediately and top with more freshly grated parmesan and hot honey to taste at the table.
Hot honey pizza party supplies!
* This post contains affiliate links on some of the thoughtfully curated and recommended products