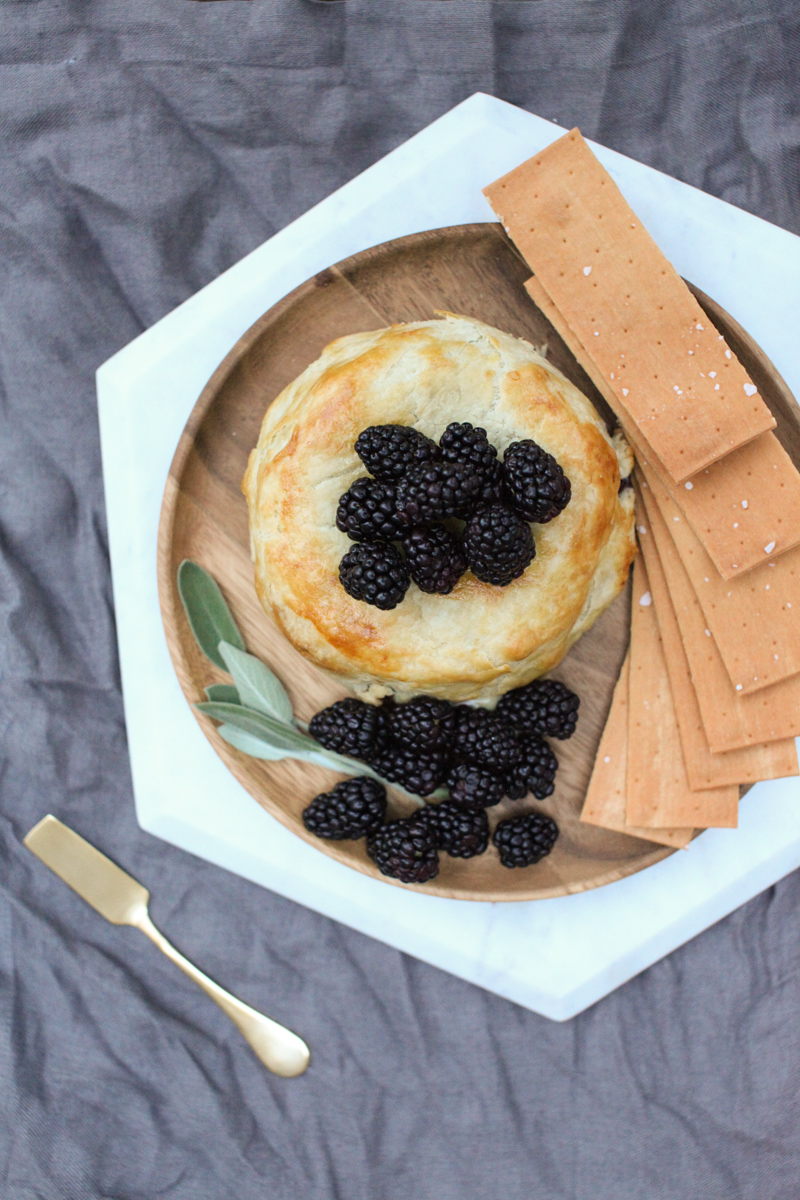 Baked brie is not new or groundbreaking, but it is always freaking delicious and 'tis the season for baked brie! Holiday parties and family gatherings call for baked brie. If you're family feels a little awkward post election, let this cheese be your comforting hug. If you're lucky and this is not the case for you, share this with your friends, family, roomie, whoever, whenever you want this month. Literally if you eat this at 2pm or 11pm, I will not judge you. Alex was gone to school and I definitely ate this for dinner. Nothing more, nothing less. I justified this because it has hazelnuts and some savory hints with the sage, booyah! The buttery, flaky crust was crisp enough I didn't even need the crackers. I just add it like the sinful, delicious cheese pie it basically was.
Speaking of crisp crust, roll your pastry crust thin enough to ensure you get some crisp, crunch to complement your soft, creamy cheese. I teach and assist a few nights a week at an amazing kitchen store with recreational cooking classes here in Brooklyn a few days a week and this past week I assisted Tia Keenan, a local NYC cheese master pro (don't think that's the proper title, but I hope it gets my point across) as she taught a cheese pairing and general cheese info class to promote her incredible new cheese book, The Art of The Cheese Plate. Seeing how many fellow cheese geeks there are since I live in a weird anti-cheese bubble was amazing. My husband doesn't really love the taste (so weird, that's a story for another time – the story about how I live my life sharing a home with  man who doesn't worship cheese, not the story about why he doesn't like cheese.. jk) and my best gal pal here in the city can't eat dairy. SOOOO that means I don't often get to celebrate the beautiful thing that cheese is. Due to these cheese haters I for some reason choose to spend my life with, learning about cheese and some of the coolest cheese pairings I've ever heard of for a few hours one night was basically a dream.
Beyond sharing her secrets for some incredibly unique and fun cheese pairings, she also demo'd a few recipes for the guests to try out. She had has the best, innovative, and most interesting spin on baked brie I've ever seen. I'd tell you more about it, but it's all inside the book! That recipe and the beautiful food photography and styling alone make it a good purchase, or a GREAT gift idea for this season. Tia was a true expert and I can't wait for Coco to take a long nap so I can dive in and discover what other good stuff she shares. Tia stressed to just stop baking brie in puff pastry, so it's a bit ironic that I went home from her class desperately craving something like this recipe. Maybe it's the little bit of rebel that's still inside of me? Someone specifically tells me not to make something, and I have to go home and make it. It's like that red button. Someone tells you not to touch the button, and then you have to touch the button. But beyond the inner rebel, I actually just really wanted baked brie and cheese after that class because we talked about cheese and I looked at cheese for two bites but got to partake in exactly two tiny bites. Since I was just assisting the class and not an actual participant I can only eat leftovers, and let me tell you this class put taht cheese away. There was nothing left! I was so proud of them! But also sad for myself selfishly. Low and behold, I survived. I got one bite of Tia's magical new spin on baked brie (seriously buy the book for it, so good and interesting) and then went home dreaming of this exact recipe that I'm sharing with you now. It's not quite the fancy showstopper of Tia's, but I promise you this will be a crowd pleaser for all ages! No matter who you and your guests voted for in November, you will love this if you like cheese.
A note on baked brie after Tia's class-
Roll out the pastry dough as thin as you possibly can before wrapping your cheese, but not so thin it rips and tears! This will help you get a crisp bite that will pair nicely with your baked soft cheese. It will also ensure even the bottom layer is cooked through. Cooking time will be shorter too. Perfect for entertaining!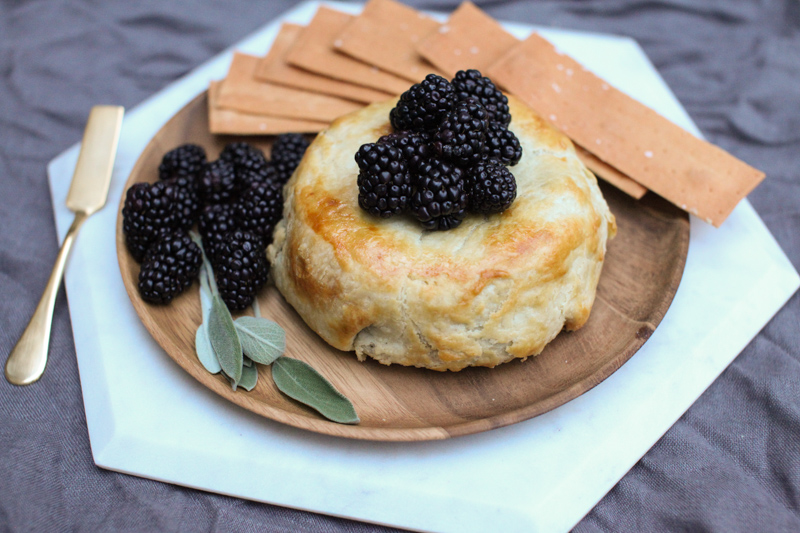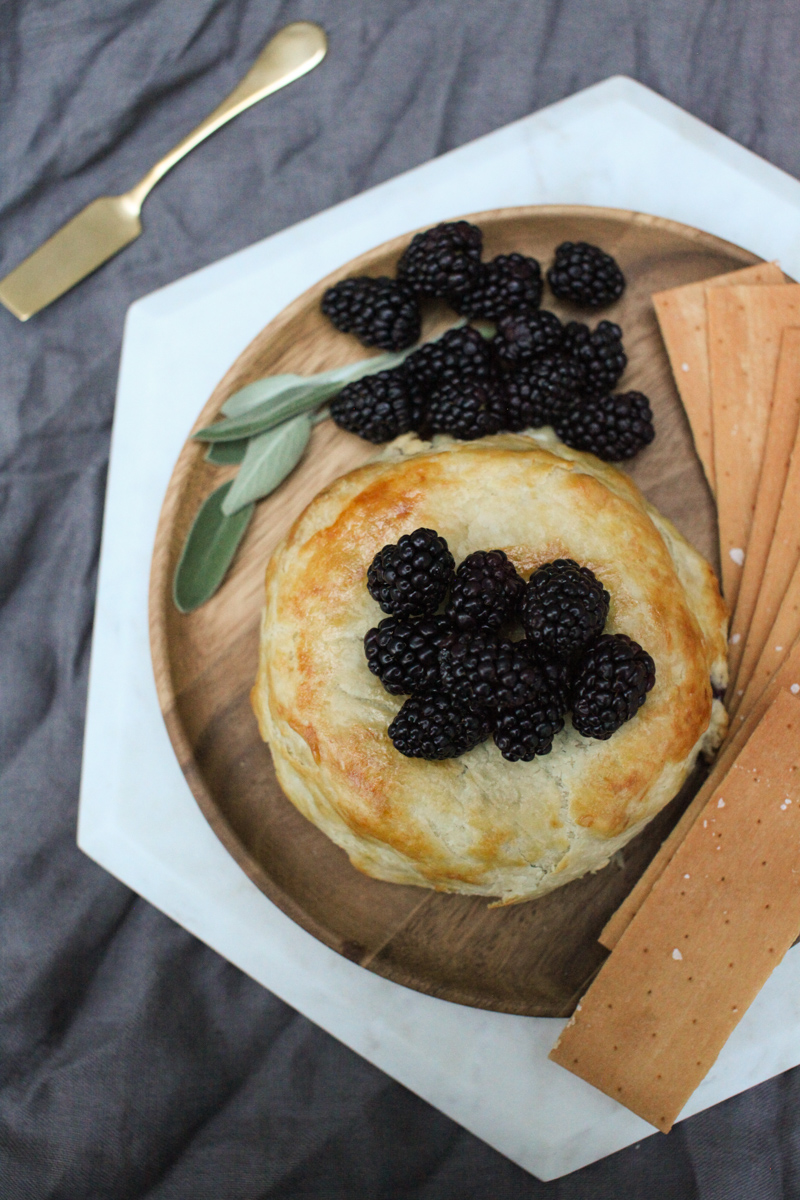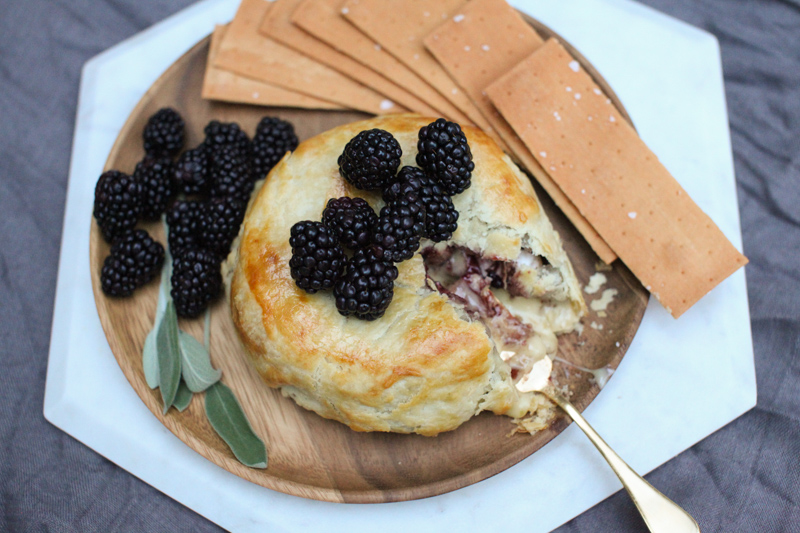 If you are serving this at a party, I also recommend garnishing with all the goodies on top. Not just because of looks, but it helps everyone know what is inside just incase of allergies or taste preferences. Especially with appetizers and snacks as your guests are mingling and so are you, but really you might be cooking, pouring drinks, introducing friends, etc. and hard to find to explain each dish. I didn't throw any chopped hazelnuts on top because I planned to eat this at home. Very alone. Please don't judge. But if you are serving this or any recipe at a dinner party or a holiday party before the main meal, consider tossing all the pretty ingredients and potential allergens somewhere on the plate as a garnish and a visual explanation of the dish and its ingredients!
Blackberry Sage Baked Brie - A Book About Cheese & Holiday Entertaining Tips
A classic for a reason, this baked brie calls for a quick and easy homemade crust and literally oozes fall flavors with sage and hazelnut. Perfect for entertaining, this recipe can be prepped in advance and popped in the oven right before your guests arrive. Feel free to sub a store-bought crust, but don't be afraid of homemade dough!
Ingredients
1 pie crust, refrigerated for 30 minutes, (store bought or using this recipe without sugar - http://www.marthastewart.com/344292/our-favorite-pie-crust)
1 9 oz brie wheel
¼ c blackberry preserves (or jam)
4-6 sage leaves, chopped
¼ c hazelnuts, chopped (optional)
1 egg
Splash of milk or cream
Optional garnishes to serve - sage, hazelnuts, fresh blackberries
Instructions
Make the pastry according to recipe directions if making from scratch. Use very cold butter and icy cold water and only 30 minutes of refrigeration will be needed for the dough. Roll out dough (homemade or store-bought) on a floured surface large enough to completely wrap around and seal the brie, or approximately 11-12 inches by 11-12 inches. Roll the dough thin enough to crisp nicely in oven, but not so thin that it breaks and tears as you wrap the brie.
Preheat the oven to 400. Line a baking sheet with parchment paper or a reusable baking mat.
Mix together preserves, hazelnuts, and sage in a small bowl.
Spread half of the preserves mix in a small circle in the middle of the pastry dough the size of your brie wheel.
Place brie on top of the spread.
Spread the remaining jam and nut mix on top of the brie.
Fold up all the edges of the dough one side/portion at a time to cover the sides of the brie and to meet in the middle. Continue with remaining sides until brie is completely wrapped up and enclosed.
Use holiday cookie cutters (leaves or stars for example) to cut our shapes with the remaining dough to cover where the dough comes together to meet on the top. OR if you are decorating with fresh berries, herbs, and nuts instead, flip the wrapped brie over onto the cookie sheet so the smooth, flat side is facing up and on top.
Put brie onto prepped baking sheet.
Mix egg with a small splash of milk or cream in a small bowl for an egg wash.
Brush the pastry dough with the egg wash with a pastry brush (or sponge gently with paper towels if you do not have a brush).
Bake for 25-30 minutes or until golden brown with a fully cooked pastry.
Allow to slightly cool for a few minutes on a platter before serving.
Top with garnishes, serve while still warm and with optional crackers.