Once again the name of this recipe is a mouthful and sounds like a ton of extra work. In actuality it is just gnocchi and pesto that tastes like fall in your mouth. Hopefully that's all I need to say to sell this recipe. Making gnocchi is one of my favorite "projects" in the kitchen. I say project because it does take some time. Unlike fresh homemade pasta, no fancy equipment is needed. Not even a potato ricer! I've used the small or medium holes on my box grater for years. I'm sure a potato ricer wouldn't take up a lot of space, but I don't believe in having a bunch of extra tools and gadgets in the kitchen. Instead I try to focus on building up "essentials" collection and find other tools that can be multi-purpose and be a good substitute for very specific single-use type tools/gadgets.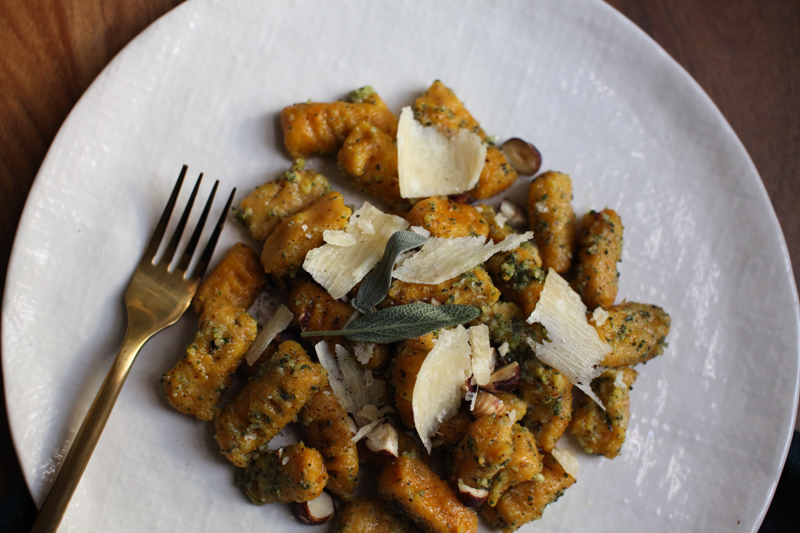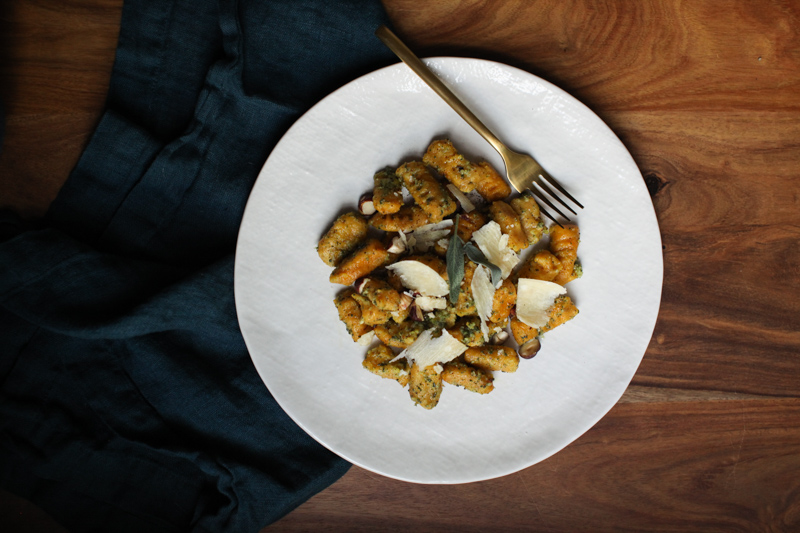 Gnocchi takes time, but it's really not a hard recipe. I find the hands-on rolling to be relaxing actually. Have a lot on your mind and there's nothing you can do about said issue at the moment? Make some damn gnocchi and take your mind off obsessing over your troubles. Doctor's orders! It's a recipe that forces you to be present and focused. This is also a great recipe to be shared. The deliciousness level is already high and then when it has that extra made-with-love touch that only a homemade recipe can have, watching these little pillows be enjoyed by people I love the most is a really beautiful feeling. Which leads me to this thought…
Starting a food blog right now amidst so many tragedies and major issues might seem frivolous to some. I don't know if I'll ever have the right words to make this space properly reflect how I feel about food and cooking, but I hope I can maybe one day inspire just one person to cook a little more or feel more comfortable in the kitchen. I firmly believe that cooking together and sharing a table with loved ones and new acquaintances is a way to start important conversations. The kitchen and the table are places where dreams can be shared and plans can be made to take actions that will make a positive difference (no matter how big or small). I also stand behind the importance of getting people to cook again in our country. I believe in the positive personal and larger scale changes home cooking and conscious ingredient sourcing and shopping can make. The benefits of cooking at home a little more often and supporting quality farming and food production (and accessibility to this kind of food) are endless.
I know there is so much chaos and pain in the world and I hope this little space of mine doesn't seem oblivious to the surrounding world. Instead, the current state was a huge motivation to start this blog. I believe in growing and cooking your own food and trusting those who grow and cook your food when you can't do it yourself. I believe in the community the dinner table can create and strengthen. I believe in the power of voting with your fork or your dollar. With that, I dream and hope that someone takes the time to make some mouth-watering good gnocchi or anything else good and wholesale with your community or to share with your community. Talk about issues that are important to you while you shape your delicious little potato puffs. Make a plan to take action and follow through while you pass the food around the table. Share your love and laughter with your dinner mates too.

Kabocha Squash Gnocchi with Hazelnut Sage Pesto
The kabocha, hazelnut, and sage flavors pack the taste of autumn into fresh version of a classic, gnocchi with pesto. Butternut squash or sweet potato are great substitutes for the kabocha, as well as pistachios, almonds, or pine nuts for hazelnuts if needed!
Recipe type:
Camille Wynn
Ingredients
1 kabocha squash, approx. 1-1.5 lb
olive oil
salt and pepper
1 russet potato, approx. 12 oz, peeled and cut in half
1 egg, beaten
½ tsp freshly ground nutmeg
½ cup parmesan, grated
2 cups AP flour
1 cup basil leaves
½ cup sage leaves
¼ cup hazelnuts
¼ cup grated parmesan
1 small garlic clove
½ lemon, juiced
¼ cup olive oil
Optional garnishes - parmesan shavings, chopped hazelnuts, and fresh sage leaves
Instructions
Preheat to 400 degrees F.
Cut kabocha squash into quarters and toss with 1-2 Tbs olive oil and salt and pepper to taste.
Spread evenly on a roasting pan or baking sheet with edges and roast for 20-30 min, or until tender when pricked with a fork or knife. Allow to cool on a wire rack or in a heat-proof bowl in refrigerator.
Meanwhile, peel and boil the potato for 20 min, or until tender. Allow to cool in fridge.
Grate potato and squash with a box grater or a potato ricer into a large bowl.
Mix in egg, nutmeg, parmesan, and approximately 1 tsp of salt. Season with pepper.
Gradually sprinkle flour into bowl and knead until the dough comes together and is smooth. Add more flour a tablespoon or two at a time if the dough is too sticky to work with.
Prep a floured surface.
Rest dough for 20-30 minutes if it springs back when you push on it or knead it.
Put dough onto prepped area and knead a few more times, just until smooth.
Divide dough into 4 portions.
Flour lightly 2-3 roasting pans or baking sheets to put rolled gnocchi on.
Working with one portion at a time, roll the dough out to about ¾ inch thick. Cut dough crosswise into ¾" long gnocchi pieces.
Press each piece with a fork on the edge to create indentations and place onto floured baking sheet.
Repeat with all remaining dough.
Chill in fridge for at least 30 minutes to an hour, or up to a few hours.
Salt a large pot of water and bring to a soft boil.
While waiting for the water to boil, puree the basil, sage, hazelnuts, garlic, and lemon juice in a food processor or a vitamix.
Slowly add in the olive oil while blending. Season with salt and pepper to taste.
Add one batch of gnocchi at a time, careful not to overcrowd the pot. Cook until gnocchi float to surface. Remove the gnocchi floating at the top with a spider spoon or slotted spoon and dry on towels.
Toss together a few large spoonfuls of pesto with cooked gnocchi. Add more pesto if needed to taste. Divide among 4 bowls (for a main course) and top with optional shaved parmesan, chopped hazelnuts, and a few sage leaves to serve.
SHOP THE POST
*This post contains affiliate links, which means I may make a small commission on any purchases based off the product links I've tested, trusted, curated, and shared for you.