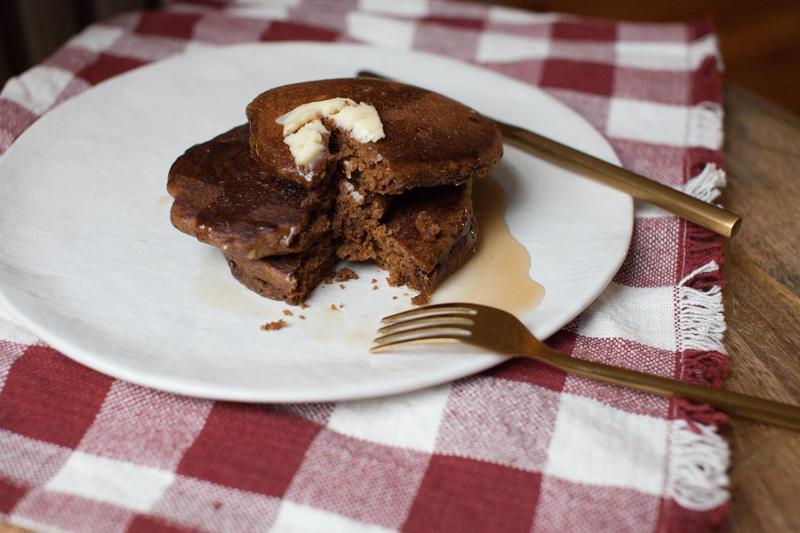 Christmas weekend is almost here! Hey-oh! These are the pancakes you should make sometime between now and Christmas morning. The first real snow hit Brooklyn last week, so we celebrated with these spelt gingerbread pancakes. They are perfect for when you want to indulge in decadent holiday flavors and goodness before noon because the spelt makes it all okay magically. Or, this recipe is equally good when you run out of flour from all the holiday baking but you just need some pancakes because it's snowing outside and everything is cozy and beautiful inside so you need to use spelt. If you assumed that the later reason was the inspiration behind this recipe, you are correct. Somehow we were out of flour and these tasty pancakes were dreamed up instead.

Gingerbread Spelt Pancakes
Healthier than their traditional counterparts, these gingerbread spelt pancakes still feel like a treat worthy for a holiday brunch or a cozy breakfast at home for two.
Ingredients
½ c spelt flour
½ tsp baking powder
¼ tsp baking soda
salt
½ tsp cinnamon
½ tsp ground ginger
ground cloves
¼ c sugar
1 egg
1Tbs molasses
2 Tbs butter, melted
¼ c plus 2 Tbs milk
Optional garnishes - maple syrup, butter, candied ginger
Instructions
Mix together all dry ingredients in a large bowl.
Combine all wet ingredients in a medium bowl.
Add wet ingredients to dry bowl and stir together with a wooden spoon or spatula just until combined, a few lumps are ok.
Heat a nonstick pan or griddle over medium high.
Add a little pat of butter to pan and melt if needed.
Ass ⅓-1/4 cup of batter at a time spread out throughout the pan, giving pancakes room to spread and cook.
Cook 3-4 minutes on the first side, or until pancake looks cooked through about half way up the side.
Flip pancake carefully with a spatula and cook for about 1-2 minutes longer on the other side.
Remove pancakes and place on a serving dish in the oven to keep warm or serve immediately with butter and syrup. Repeat with remaining batter.