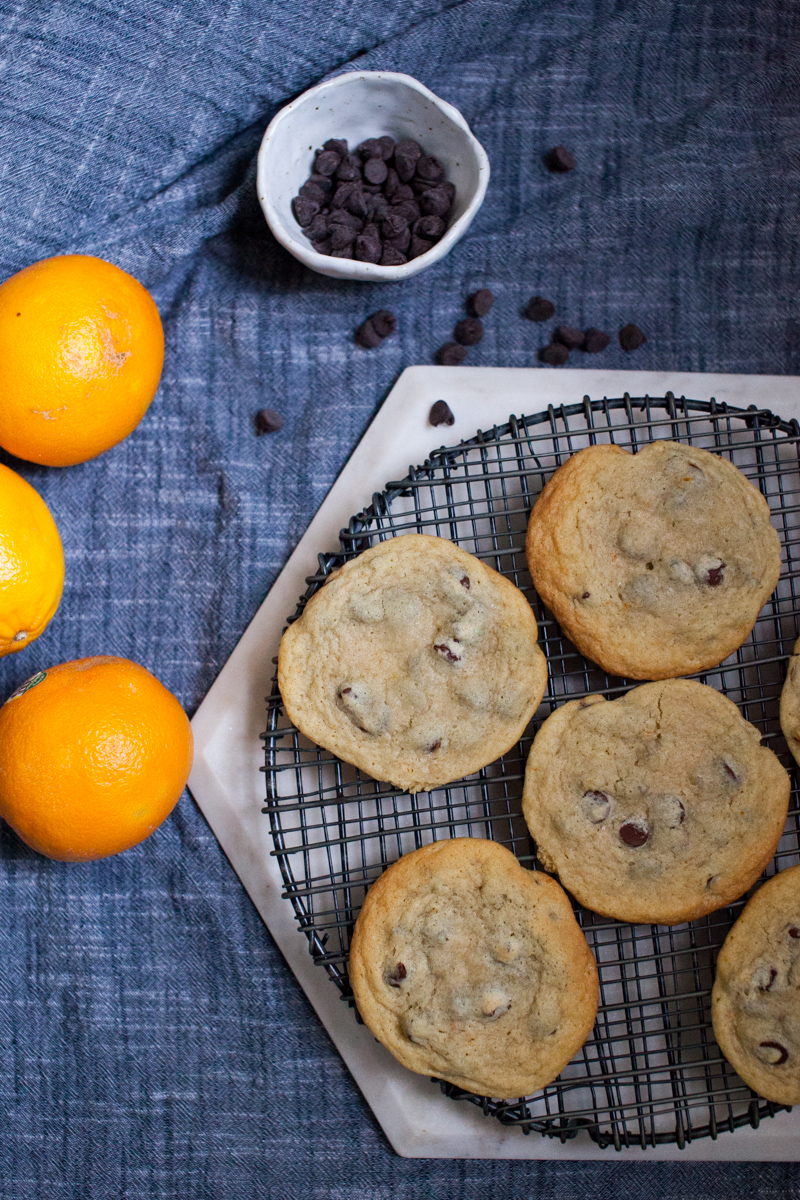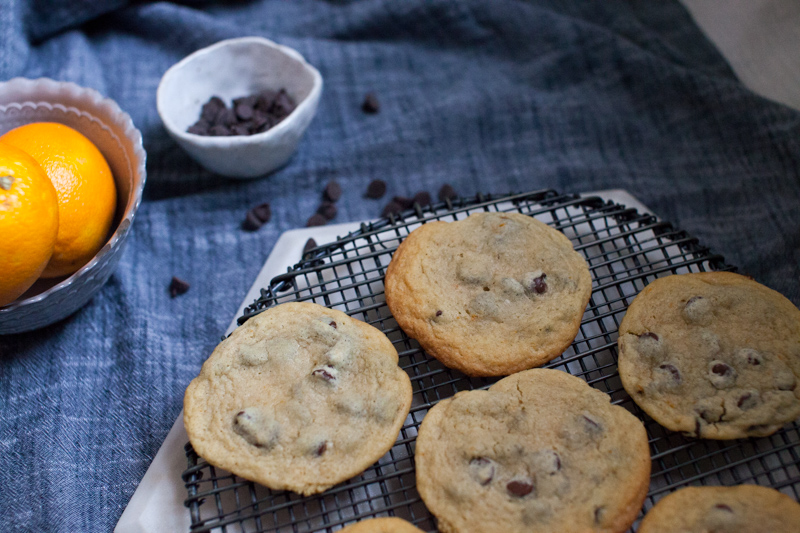 Christmas in Southern California growing up did not look like the Christmas seasons Alex and I have shared since being married. There was no snow or staying in to stay cozy. There was no point in even dreaming or wishing for a white Christmas because that was just not going happen! Instead it meant wearing boots with short sleeve tee shirts to Disneyland to see the holiday parade because I had to squeeze in wearing boots when I could. There were also lots of iced holiday drinks from Starbucks. The best part of Christmas in California to me though were the oranges! Christmas morning was the start of citrus season at our house. I grew up with orange, grapefruit, and crappy lemon trees in our front yard. All the fruit was delicious, but my parents' orange trees grew fruit like freaking gold.
Right around Christmas my dad would start picking any oranges that looked ready. He made fresh orange juice every single morning of my Christmas break; all of citrus season actually when he was home. He is a commercial pilot so there were days at a time he was gone, but he would always make up for it when he was back. There were trips to theme parks, tide pools, and wherever else I wanted to go when no one else was there because all the other parents were at work. As I've grown up though and don't want to spend my days riding rollercoasters that bring me flashes of my life before my eyes, he gets up to make fresh orange juice. That has never changed. When I was a teenager he upgraded to a fancy electric orange juicer that was so loud it would wake me up in the morning and because I was a teenager I was so mad that he was waking me up before noon. Teenagers are terrible people clearly. Who else is angry to be delivered fresh OJ first thing in the morning at a reasonable hour?? Teenagers are. Now when we are home and sleeping in my childhood bedroom, waking up to the sound of that electric juicer is the best feeling!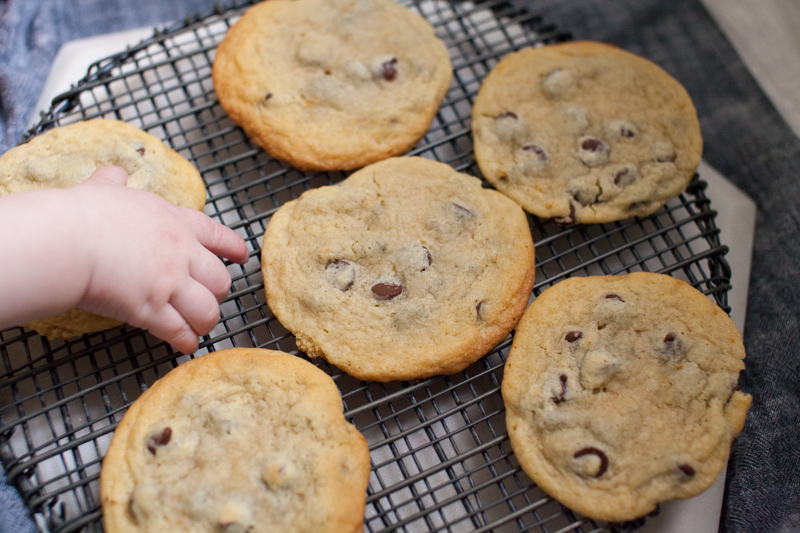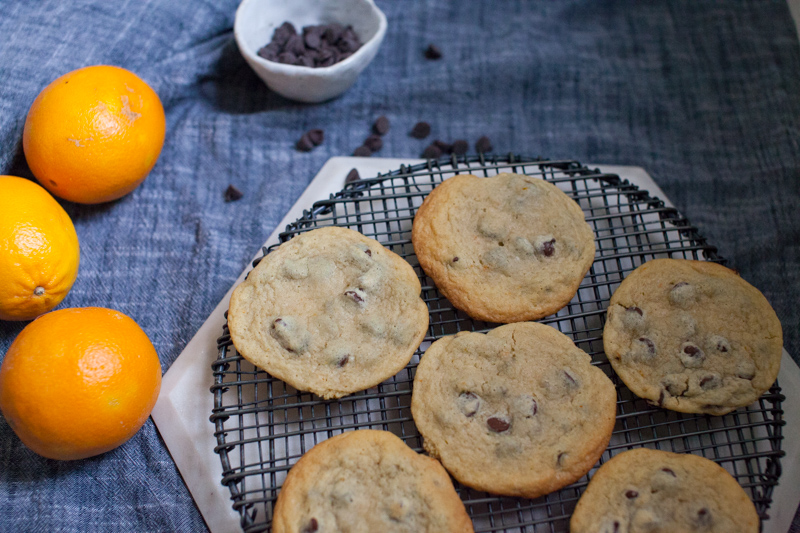 These cookies are helping me get in the Christmas spirit this year. This recipe's orange zest and fresh juice, cinnamon, and fresh baked cookie goodness all make our little home so far away from California smell just like Christmas back home in Southern California. Even if you don't have holiday memories tied to the smell of citrus, these are the ultimate winter cookies to me! I love to celebrate citrus all winter long because everything else about winter sucks. Just kidding! Kind of. To me though, citrus really is the star of winter. The flavors are exciting, bright, and bold in a season where things can start to feel drab and heavy. Mother Nature really knows what's up bringing us citrus trees heavy with ripe fruit just when we need it. I love that when I look back on winter as a kid it was all freshly picked from our front yard oranges, all day long. I can't wait for Coco to eat Grandpa Mark's oranges and to teach her that winter may be cold and dreary at times but it also means citrus and staying in to watch movies and read books with her family that loves her so very much. So to celebrate the first day of winter, here is a cookie recipe that I hope you'll try. An easy recipe that will make your home smell just like Christmas and these cookies taste so delicious too! PS I made a facebook page for the blog, I can't wait to share tips, techniques, and tricks on facebook live later this month. Like and follow along right here!

Orange Chocolate Chip Cookies
Guaranteed to make your home smell and taste like the holidays, these orange chocolate chip cookies put a delicious cinnamon and winter citrus twist on a classic treat everyone will beg you to bake every year!
Ingredients
1½ c AP flour
½ tsp baking soda
¼ tsp salt, a little more to taste is ok!
¼ tsp cinnamon
½ c butter, softened
½ c brown sugar
¼ c white sugar
zest of one orange
1 egg
½ tsp vanilla
2 Tbs freshly squeeze orange juice
1 c semisweet chocolate chips
Instructions
Preheat oven to 350 degrees F and line two cookie sheets with parchment paper or a reusable baking mat.
Mix together flour, baking soda, salt, and cinnamon in a small/medium bowl and set aside.
In an electric stand mixer or in a large bowl with a hand mixer, cream together butter, both sugars , and orange zest by beating with the whisk attachment on medium-high to high until light, fluffy, and fully combined.
Add one egg and mix on medium until just combined.
Add in vanilla and orange juice mixing again until just combined.
Slowly add the flour mixture in stirring with the paddle attachment or by hand with a wooden spoon or spatula carefully not to over-mix.
Add in chocolate chips. If possible, let dough rest for an hour or a few, or bake immediately.
Spoon cookie dough (should be less than ¼ c of dough) and roll into a ball before placing on cookie sheet or use a 1½ oz cooke dough scoop. Repeat with remaining dough with 6 cookies on each sheet to allow room to spread and cook.
Bake for 10-12 minutes and allow to cool on a wire rack.
And in case you were wondering what it looks like to try and shoot recipes for this blog at our house… We have the cutest food and prop stylist on retainer. Coco Lem, you are not very helpful but I love you so much!