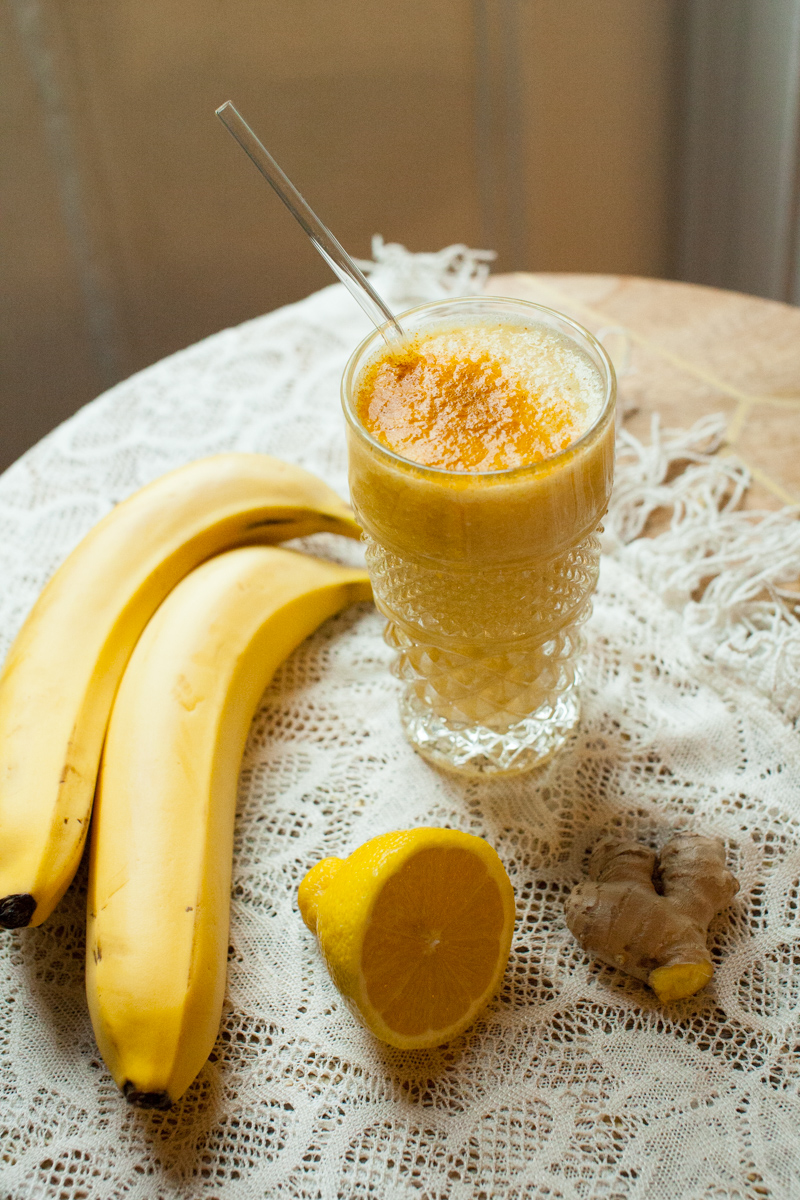 I'm not really a diet kind of gal. Or cleanse. Or anything like that. Especially not around the New Year. I take New Year's goal setting very seriously though. So seriously picked a small fight with  my husband on NYE because I didn't think he was taking our goal setting exercise together seriously enough. HA! Now that it's been a few days I realize how ridiculous that sounds. But really, I love to set goals. How else do you think I opened up three bridal shops in three years? For whatever reason though, a diet or cleanse have not made it on my list of resolutions and goals for the new year since high school probably. I did make a small exercise resolution though. Go me! And I did make this delicious freaking smoothie and it's perfect for anyone this time of year. Whether you made a plan for some sort of cleanse or diet change or not. Or if you are craving something refreshing and bright that tastes kind of like sunny California winter in your mouth because east coast winter has just started but you already feel trapped by the dumb cold weather and grey skies. I fall into the second category. Regardless, this drink is delicious!
It's a smoothie spin on one of my favorite evening drinks, a golden milk latte! Turmeric and ginger are both anti-inflammatory foods along with a lot of other health benefits. I used almost an inch of chopped, fresh ginger because I LOVE ginger! 1/2 inch knob of ginger though would still give you great flavor if you don't want the ginger to be so in your face. The maple syrup, coconut oil, and fresh black pepper all golden milk latte ingredients, but could be easily left out. I understand if a pinch of black pepper in your smoothie turns you off, but I promise it's tasty (and basically unnoticeable) if you want to try it! I kept this smoothie simple as I'm not a big fan personally of expensive smoothies with all kinds of pricy superfood and health powders in them. At least not at this point in my life. I'm a busy mom, wife, and business owner and just the thought of keeping my pantry stocked with $50 bottles of health powders and dusts freaks me out right now. However, if that's your thing… Dump them on in!
Golden Banana Turmeric Smoothie
A bright and refreshing smoothie inspired by Golden Milk Lattes full of anti-flammatory and delicious ingredients.
Ingredients
1 banana, fresh or frozen
2 ice cubes (only if you using fresh banana)
½ to 1 inch fresh ginger, peeled and chopped ginger
¼ tsp turmeric powder
⅛-1/4 tsp maple syrup
1 Tbs coconut oil
Juice from ½ lemon
1 cup orange juice
pinch of freshly ground pepper
Instructions
Put all ingredients in a blender and blend until smooth and fully combine.
Pour into a glass and serve immediately.