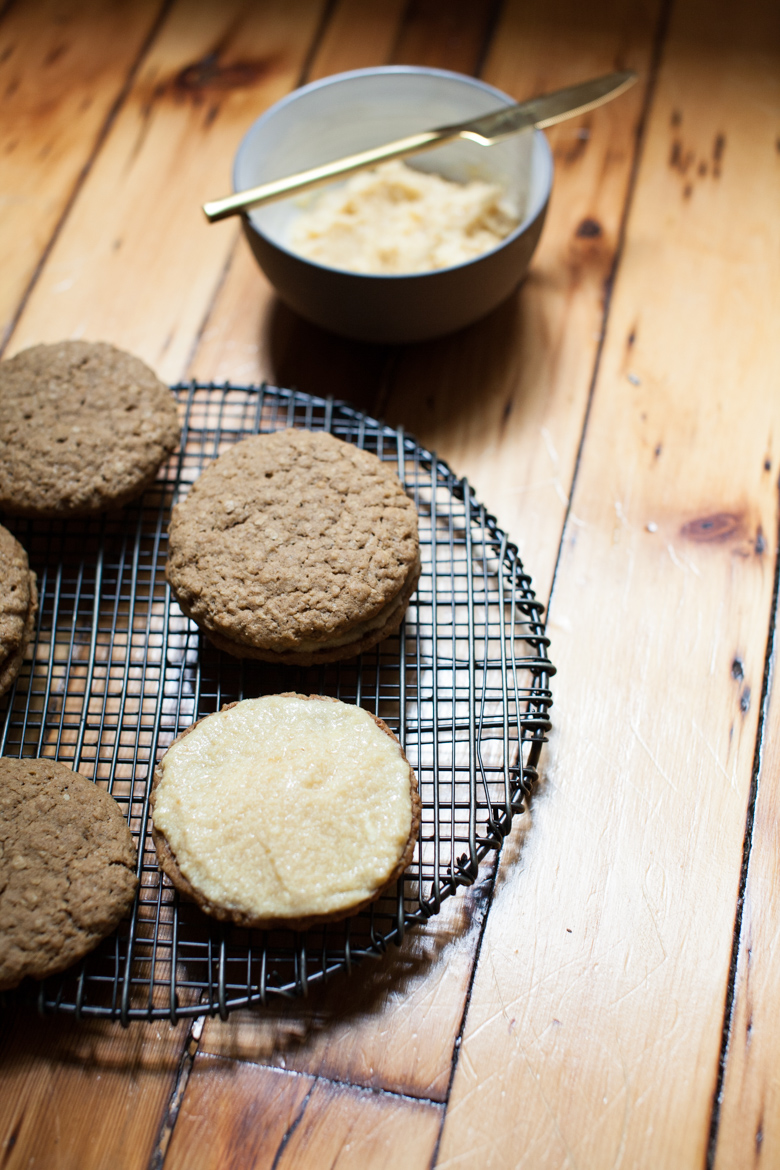 Miso is popping up in desserts all around NYC right now! Just this week Alex and I tired miso sticky buns at Williamsburg's gorgeous new Butler Bakeshop and a miso buttercream chai at Milk Bar. These cookies however are our favorite miso infused sweet we've had yet! We are possibly biased, but I actually don't think so! They capture the addictive, satisfying salty sweet depth miso adds, plus have a hint of nostalgia perfect for this time of year.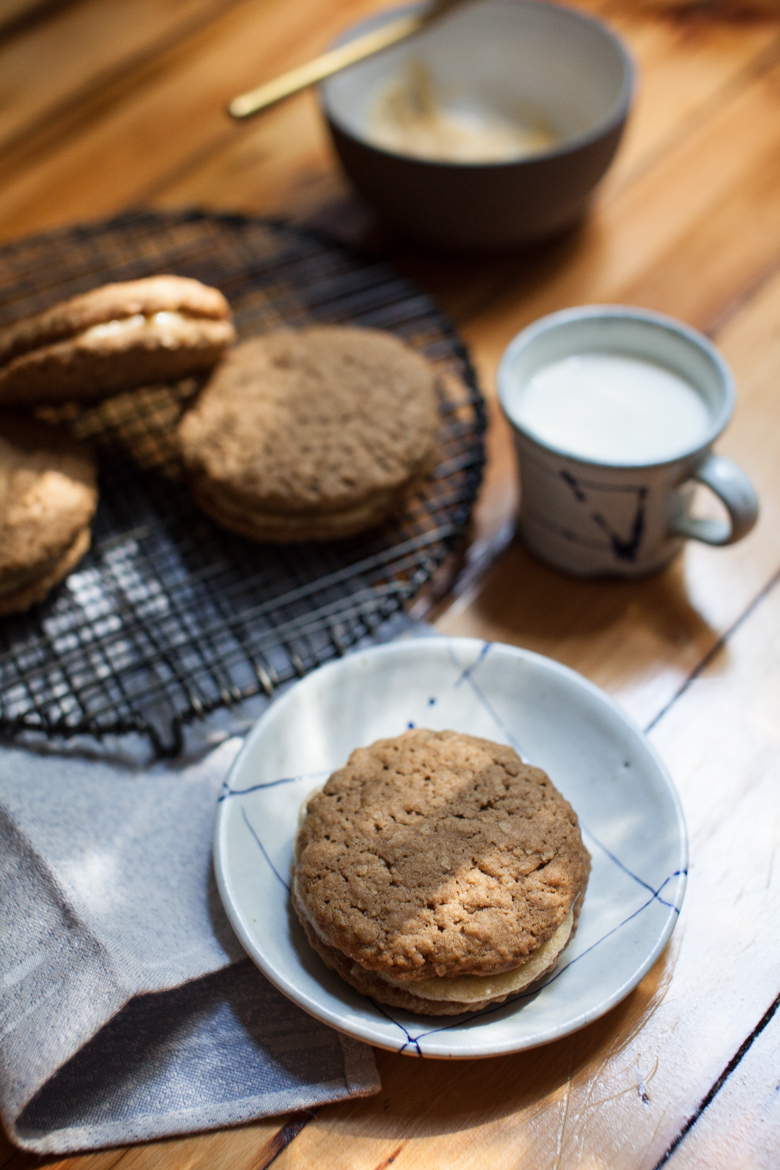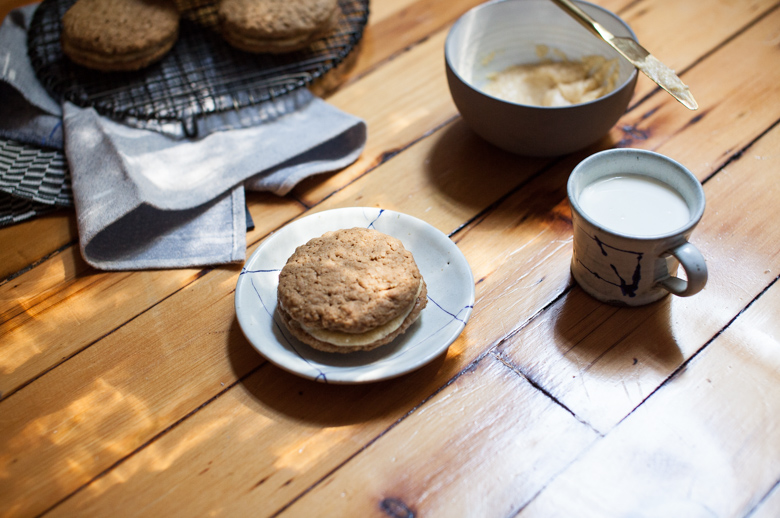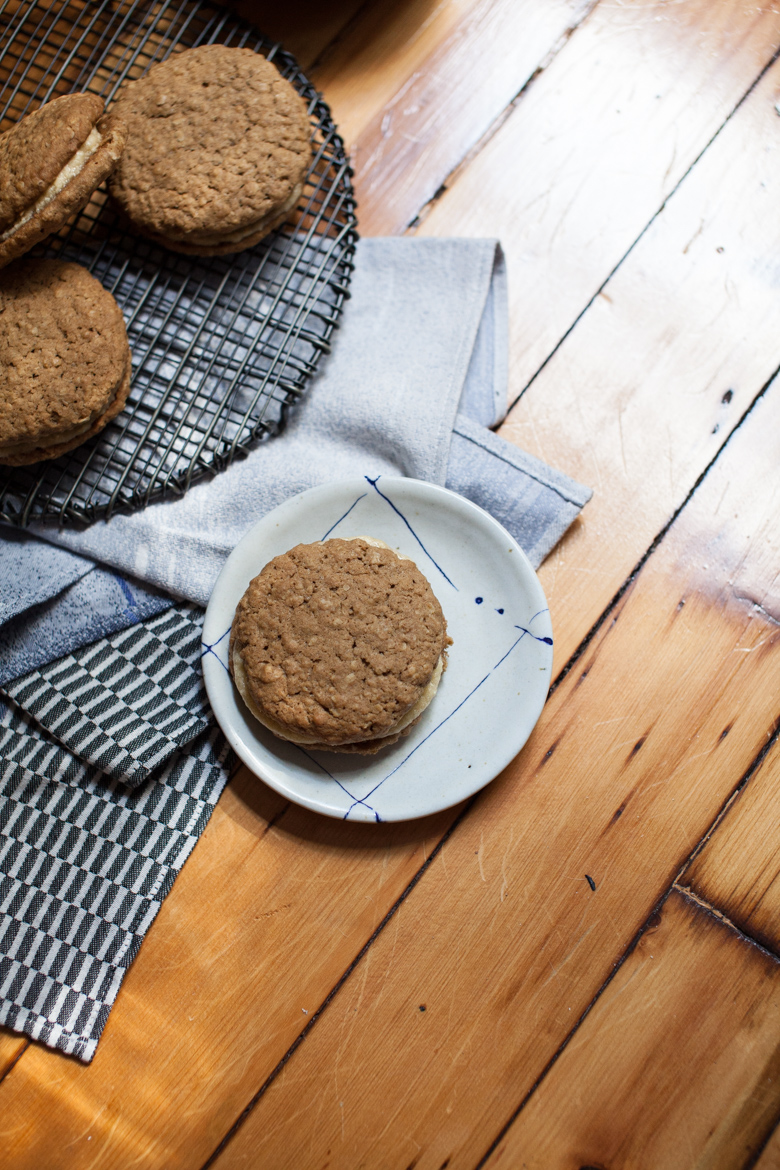 These particular cookies were inspired by a cookie sandwich we had in DC during a trip over the summer. The museums, monuments, people, and food (it was named Bon Appetit's Restaurant City of the Year recently) all exceeded our expectations. One of our favorite stops was Maketto. We snagged dinner reservations and loved the meal and the boutique/cafe/restaurant concept so much that we made sure to stop by the next morning before we hit the road again. They had miso infused sweets that I still have not stopped dreaming of, so I made these oatmeal cookie sandwiches with miso buttercream filling to fill the void until the next time we can go to DC again.
I love finding new ways to use up my tub of miso and my favorite way to add some interest and major flavor to desserts right now is with some miso! I tried to describe it to a friend and couldn't really find the right words other than it's similar to the idea of salted caramel desserts. Miso adds this perfect burst of complex and interesting salty/nutty goodness to my favorite sweets. You can build up the flavor or keep it subtle by adding just a small amount depending on your taste. Start off slow and add more to taste. If you've got a container of miso in your fridge or if you've been wanting to buy it but unsure of how to use it all, MAKE THESE COOKIES RIGHT NOW. Or if you're craving something sweet & salty (my very favorite), MAKE THESE COOKIES RIGHT NOW. These oatmeal cookie sandwiches taste familiar, but are definitely better than any of the ones I had growing up. Especially with the elevated flavor the miso upgrade adds. Chewy, creamy, salty, and sweet! Everything I love in a cookie! If/when you make these, please save me one and invite me over. I'll bring a cute baby and/or a cute frenchie over too if that will help my chances.

Oatmeal & Miso Cream Cookie Sandwiches
Inspired by a trip to Washington DC, this upgraded oatmeal cookie sandwich is the perfect combination of sweet and salty thanks to the miso buttercream making for the perfect recipe to satisfy everyone's cravings all at once. This recipe makes 5 big cookie sandwiches, but can easily make 8-10 smaller sandwiches.
Ingredients
¾ cup oatmeal
1¼ cup AP flour
1 tsp cinnamon
½ tsp baking soda
pinch of salt (approx ⅛ tsp)
½ cup softened butter, unsalted
½ cup brown sugar
¼ cup sugar
1 egg
2 tsp vanilla
FROSTING
½ cup butter, unsalted (1 stick)
1 cup powdered sugar
1 Tbs whole milk
½ tsp vanilla
1 Tbs white miso
Instructions
Preheat oven to 325 F and prep 2 baking sheets with parchment paper (preferably reusable).
Cream softened butter and sugars on medium high in a stand mixer (or with a hand mixer). Scrape down the sides occasionally with a spatula to fully incorporate.
Add vanilla and egg and combine,
Mix flour, salt, baking soda, and cinnamon in a separate bowl.
Add dry ingredients to the sugar and butter mixture and combine together with a spatula to avoid over-mixing.
Using a cookie dough scoop or large soup spoon, spoon out balls of cookie dough evenly across the baking sheets allowing room to grow. Press down the round top of each dough ball to help with the shape while they bake.
Bake at 325 F for 13-15 minutes or until edges just start to get light/golden brown. To keep them chewy, do not over-bake!
Meanwhile, combine all the frosting ingredients with stand or hand mixer.
Cool cookies fully. Assemble by frosting the flat bottom of a cookie with a thick layer of frosting and place another flat cookie bottom to that frosted side to create a cookie sandwich.
PS It looks like I'm not the only one loving miso desserts right now! Check out
this list
for a few more recipes/inspiration.