It's 2016 so grocery stores are still open today! This means it's not too late to try the two festive cranberry cocktail recipes I'll be sharing today! In fact, I'm hoping you can make these without even running to the store. They both call for ingredients that are often the stares of holiday dinner or dessert so you may already have them on hand. This prosecco and gin cocktail is an easy recipe that's a dream for entertaining as it's a crowd pleaser! Everybody loves some sparkling lemonade and this drink has a slight holiday twist. It's perfect a day of rich and heavy foods when you need a refreshing drink. Especially if you wearing a nice sweater and your wife decided to crank up the heater. Yes, that would be about my poor, sweet husband.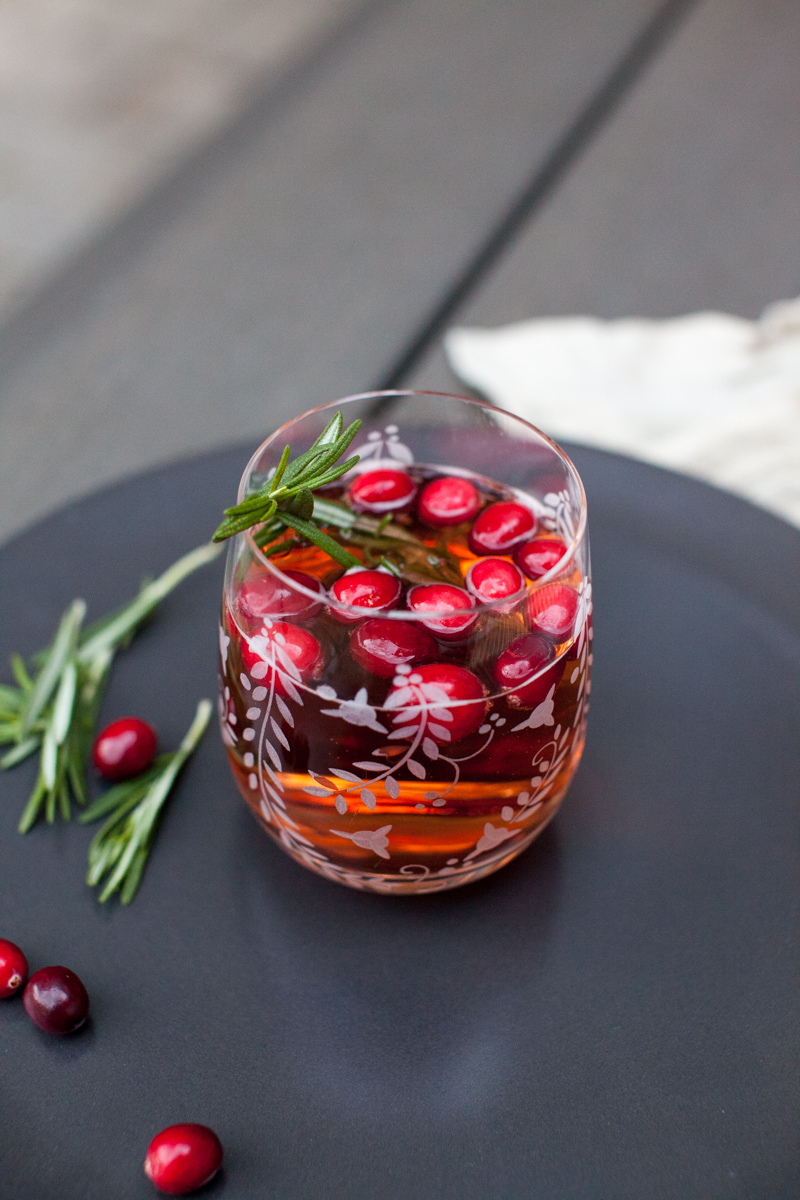 Feel free to swap cava or any other sparkling wine for the prosecco. Same goes for the rosemary if you have or prefer other herbs. Rosemary simple syrup sound like a nusence? Muddle classic simple syrup or even just sugar with fresh rosemary before add the juices and gin. If you need to make this in advance, combine everything in advance but the prosecco in a punch bowl and add the chilled sparkling wine right before drinking. Top with fresh cranberries and now it's a beautiful, delicious holiday punch! Or make it in a cocktail shaker like we did as we were only making two. It's easy, no-fuss, and only takes minutes to make!

Sparkling Cranberry Rosemary Lemonade
An easy prosecco cocktail recipe that only takes minutes and can be served as a holiday punch for effortless entertaining or as individual cocktails. Feel free to substitute your favorite sparkling wine or holiday herbs. This recipe is for 2 drinks, but can easily be multiplied to suit your party and served as a punch.
Ingredients
½ cup water
½ cup sugar
2 sprigs of rosemary, plus more to garnish
1½ oz lemon juice
1 oz cranberry juice
1 1/12 oz gin
ice cubes
4 oz prosecco or dry sparkling wine
Fresh cranberries, to garnish
Instructions
Make a rosemary simple syrup by putting the sugar, water, and rosemary in a small saucepan on medium heat. Bring to a low boil and simmer until sugar is dissolved 2-3 minutes. Remove rosemary and allow to cool.
Combine lemon juice, cranberry juice, gin, 1.5 Tbs of rosemary simple syrup (keep and use the rest within a month), and an ice cube together in a cocktail shaker. Strain into two glasses.
Top with prosecco, garnish with rosemary and fresh cranberries, and serve.